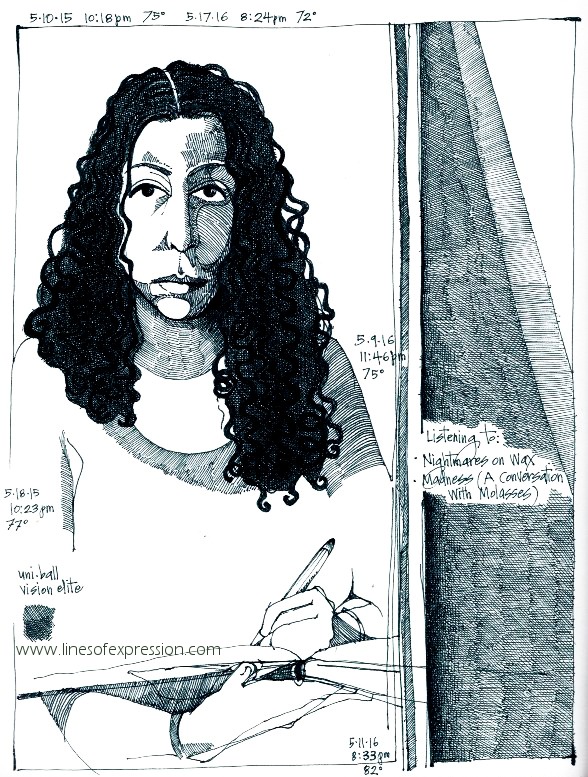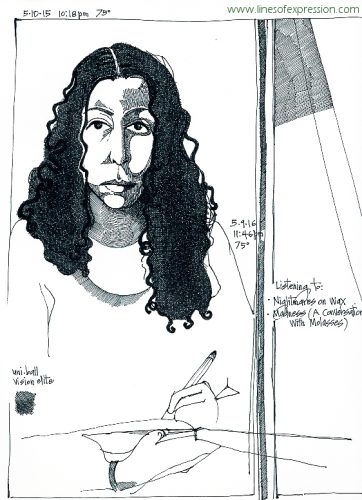 Drawing is enhanced with music.  But radio is just as awful as television. I stream music to avoid the talking, the media and the commercials.
Meditating and Listening to Music
When I draw I listen to music with no words.  Usually a jazzy down-tempo house type music.   Lately I have been enjoying these artists: Soehngen, Nightmares on Wax, Kruder & Dorfmeister, LTJ Bukem, After Hours, and Mr. Scruff.
There was a time that I would draw while listening to documentaries on Netflix.  It's been a long time since I have done that.
Drawing Utensil
This is phase two of the self portrait #1 work in progress.  It is coming along.  So far it has been done entirely with a Uni-ball Vision Elite BLK series in dark green.
The Uni-ball BLK series are black inks tinted with color.  I like them quite a lot.  There is a brown, purple, orange/light brown, blue, and green.
Another Natural Hair Drawing
A lady asked me if I always wear my hair curly.  I am flattered to be asked about my hair, but I think it can be offensive to ask people about their appearance.  Of course I grew up with many family members that did/do this, so she gets a pass.
It's true I have been wearing it curly a lot.
I like the way the curls hide how long it is.
Then they gradually fall out, get longer and longer until they are finally just wavy.  This is my favorite part.
I like how it lasts until I am ready to wash it.
No hairdresser required, although if I don't feel like it, I'm going to see Taura Taylor at The Nappy Parlor.
It makes me happy.  And drawing hair is the bees knees.
.