For decades I have been drawing eyebrows on my face in velvet black eyebrow pencil. My natural eyebrows are so sparse, I have considered having them tattooed on.  It takes about 8 minutes to carefully draw them on each morning.  My entire makeup routine is about 15 minutes. 
After years of spending as much as 45 minutes creating a public face, I can't stand to spend any more time on vanity. Actually 15 minutes is too long.
Why I Love Wunderbrow
Wunderbrow is claiming to be a semi-permanent eyebrow gel product. I watched the video and read the reviews and had to try it.  It's true that I hesitated at the price.  The eyebrow pencils that I am used to cost 15% of what they are charging.  
Before when I used only a sharpened eyebrow pencil, by midday they would have partially melted off. By the time I got home, they were barely there.  Now I have the same definition I had first thing in the morning and it is a major improvement.
After trying it, I enjoyed it so much that I used it all up and ordered another one. The reasons why I love Wunderbrow are:
It is quicker to paint them on than draw them with a pencil

It lasts until I decide to remove it

It dries quickly

It is easier to wipe off and try again if I make a mistake (if I hurry before it sets)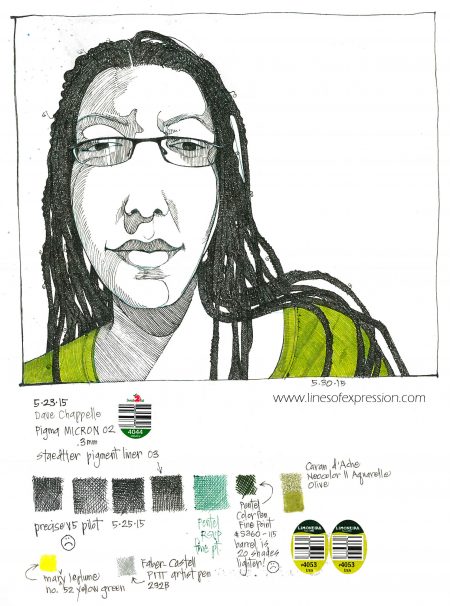 It would stay on for days, IF I didn't wash my face every evening with coconut oil. As soon as I am in for the day:
I wipe my face with a baby wipe. This removes all the other makeup except the Wunderbrow.

Then I take coconut oil and massage my face.

Afterwards, I take a warm wash towel and wipe off the coconut oil. The Wunderbrow is then defeated. I am not too disappointed that it doesn't last beyond my daily face washing because it lasts ALL day!
Four or five short years ago I was the only one with eyebrows drawn on just so (in the morning… 🙂 ). People would comment and ask me to teach them.  A nurse I used to know told me I should put a tutorial on YouTube.  I didn't think I could explain it and I thought that I was only good at drawing my own because I have been drawing eyebrows on my face and in my sketchbook for a very long time.
Drawing Eyebrows Takes Time
In 2016 and in Atlanta it seems like every other woman has her eyebrows done professionally. I am happy to have stepped up my eyebrow game.

I would like to be the woman that is always ready to go.  I'm getting closer to 30 minutes to out the door, but it is a struggle.  My goal is to get ready in less than 15 minutes. Having eyebrows that are always ready would cut my time down to 22 minutes.  This is why I am still thinking of getting eyebrow tattoos.
Even though you will need to buy a better quality brush to apply it, I still think the product is exceptional and I use it daily.  I may not be willing to continue to spend $20 a wop.  Seemed like less than two months before I needed more.

Save
Save
Save
Save