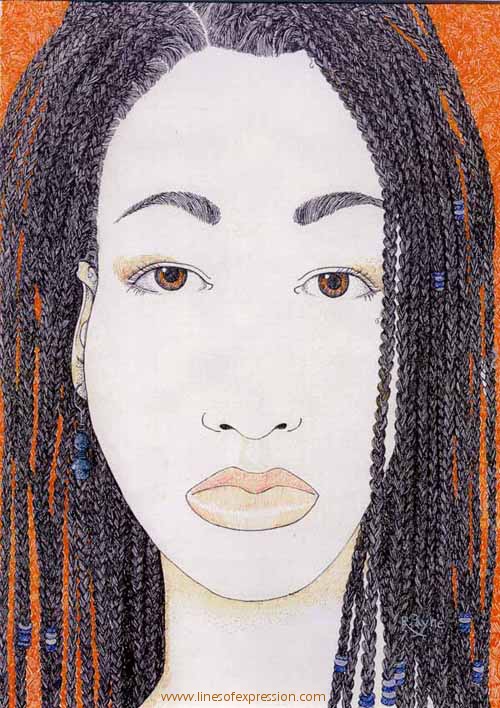 This is an ink drawing that my hair fascination inspired me to do about 30 years ago.  Back then I struggled to work with the damage I caused to my hair with daily heat and regular chemical treatments.All this to get a hair texture that I was not born with.  I dreamed of having hair with an even length and a healthy appearance.  But what I had was severe breakage and an always dry look.  So I found enjoyment in drawing healthy hair images.
Forced to Choose Natural
After decades of abusing my hair and ignoring the breakage, and the cost of treatments and tools, I was finally forced to go in a different direction.
The doctor told me I had a cyst in my brain.  Then he said it was a tumor.  I didn't think about it too long, I just wanted it out.  They removed this "tumor" although they denied my request to take it home with me.  Before they removed it, they shaved a big bald rectangle in the back of my head.
Even after the sutures were removed, I couldn't put chemicals or heat on it.  I had been thinking about locking my hair for years before that, but was anxious about it.  I had images of women who had already transitioned on my vision board.
Hair Fascination
Years later I have the even, healthy hair that I dreamed about in the form of locked hair.  It has been a wonderful transition; so much so that it still inspires me to make drawings.  My hair fascination persists.
Natural hair inspires me to draw regularly.  I encourage the women I know who are still struggling with the chemical assimilation conflict by telling them:
It has helped me save SO much money.  Although I do find that I would like to let someone else do my hair occasionally, it is completely optional.
It is ready to go when I wake up!  Maintenance occurs when I am ready to tackle it, not at the moment it is time to leave the house.
It is usually waterproof.  I don't have to run out of the rain, or worry how the humidity is going to change my 'do.
I have learned my natural hair texture.  Before I returned to natural, I had no idea how fine and curly my hair was at the nape of my neck and how course it is on the top of my head.
After a certain length, there is movement.
Locked hair in particular teaches you patience.  It is definitely a series of stages, and each one is better than the last.
If you have any ideas for natural hair drawings, please let me know.