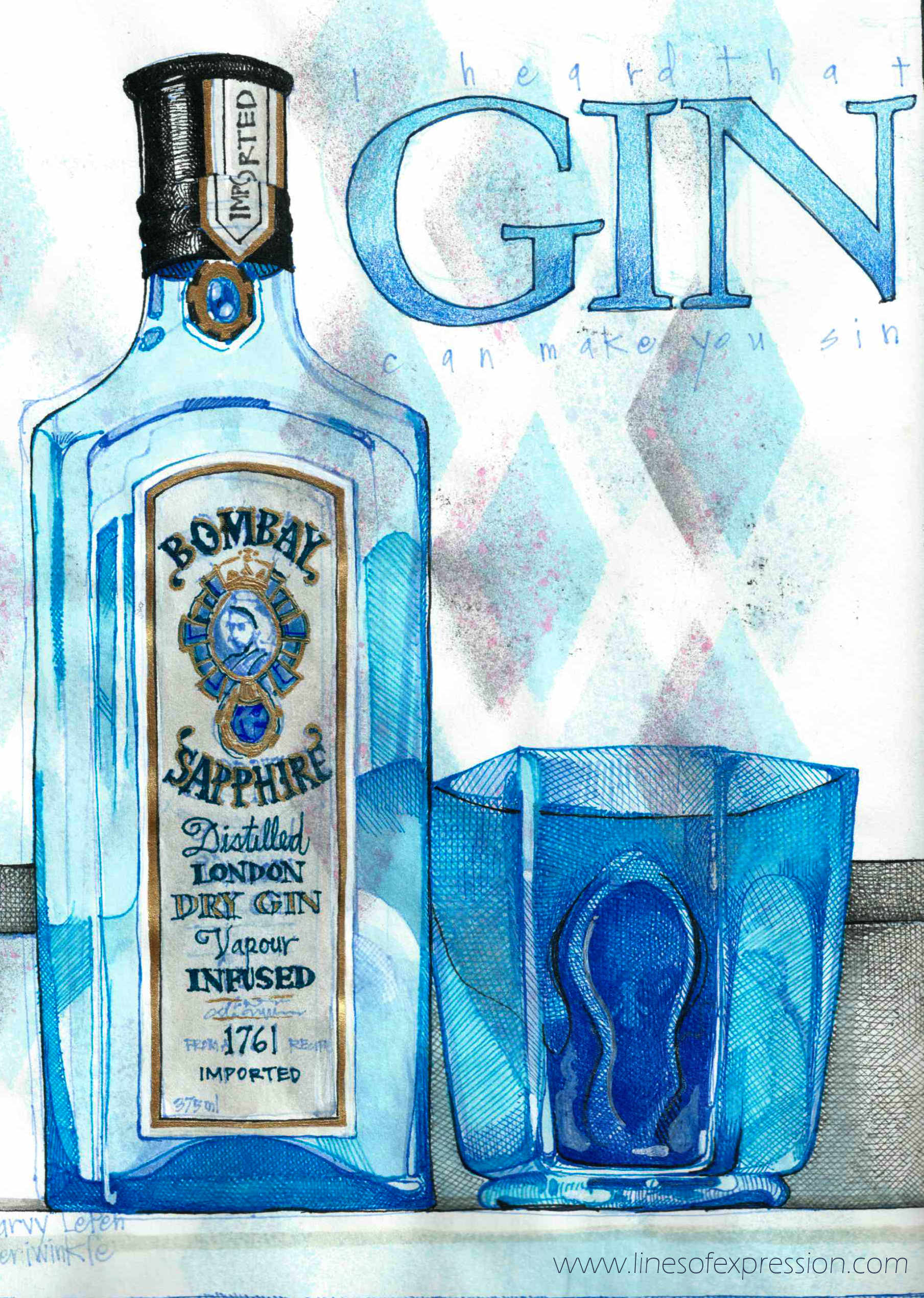 Initially I chose Bombay Sapphire because of the bottle and it turned out to be a very good choice.
Gin Not Rummy
My drinking moments come so seldom that it may be less than twice a year, but when the occasion presents itself, this is the drink I want.
Sketchbook Inspiration
This is an ink, watercolor and colored pencil sketchbook drawing that took a six month pause between the start and the finish.  It is the first page of a sketchbook that sparked a new phase of inspiration after a long dry spell.
This particular sketchbook has given me a surge of new ideas and reminded me of old ones.  Sketchbooks naturally do that. When there are pages that I am really pleased with, it keeps inspiration fired up.
5 Ways to Fix Ugly Sketchbook Pages
So the key is to keep going back to the pages you don't like, and add and subtract until you do like them.  You could:
blot out the part you don't like with black
collage over it
cover it with gesso
improvise with dark values of another color to cover the offending part
use goauche or other opaque paint
I have one sketchbook with 60 blank pages left before it is full.  If I give myself 120 days to finish it, that will be the end of September.  It could happen.
Favorite Subject and Drink
Bottles are still a favorite subject and it is hard for me to throw away a nice one.  Pickle jars, jelly jars, wine bottles, and almost any glass vessel with a lid stick to my hand over the garbage can.
If it is blue glass, it really calls to me.  Especially that cobalt blue. Looking forward to future color coordinated still life drawings for more sketchbook inspiration.