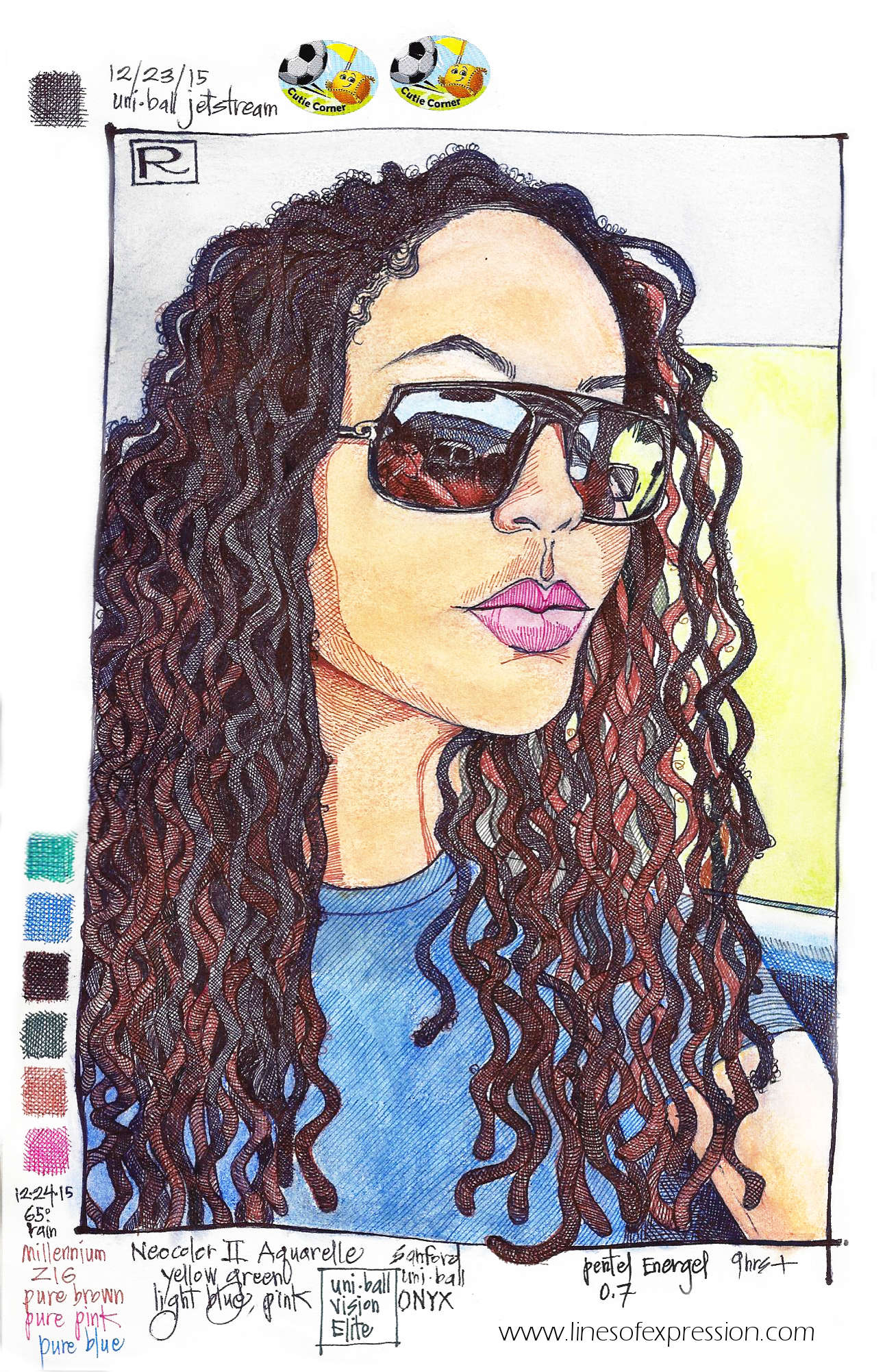 Ink and water soluble crayon sketchbook drawing of a woman wearing a wavy locked style in tans and browns.
Ode to Natural Hair
One of my passions outside of drawing is natural hair.  I'm sure it's a topic that will show up here often.
It is a style that:
keeps me out of the hair salon
is waterproof
is versatile
gets me out of the door much more quickly
has no bad hair days
I don't need to run out of the rain (unless it's curled)
has no concerns about humidity
I can ride on the back of a motorcycle or in a drop top without worrying about what my hair is doing
Use What You Have
My favorite pens are packed in a box somewhere.  This drawing was done with a Uni-ball Jetstream ball point.  That is my favorite writing pen, but for drawing it doesn't compare to the Uni-ball Vision Elite.  The Jetstream smears.
Inspiration came, and my preferred pens were packed somewhere, so I had to make do.  Water soluble crayons and other pens were used to create this piece.  It took over nine hours; I think twelve hours total.
Pen Preference
There is another drawing that I created with the Uni-ball Jetstream and it has smeared quite a lot.  It is the portrait of my uncle William.  This is a good lesson, and I won't be making any more drawings with the ball point pen.
The Blog Brings Inspiration
It is the first sketchbook drawing inspired by the blog.  There was a moment when I knew I would post it, and then I kept wanting to improve it before time to publish.
This is a sketchbook drawing of a woman with locked hair and is making me consider a series of natural hair portraits.  But first I need to find those pens.  Do any of you have a favorite pen?