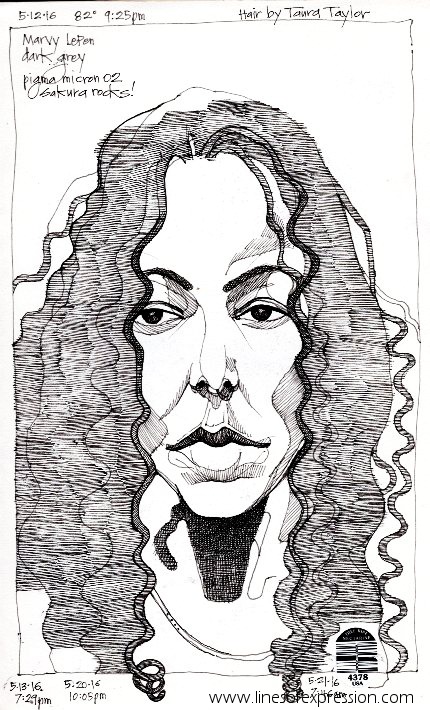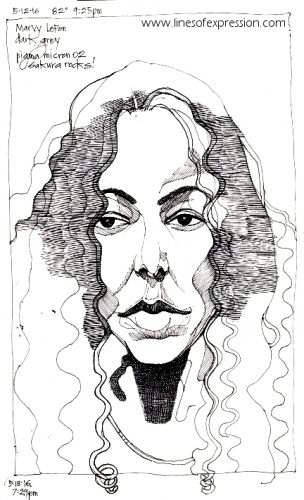 Under the hair is a new wireless sport headset.  It wraps around your neck and fits snug in your ear and provides noise reduction at the same time.
They answer the phone and automatically stop your music, and the sound quality on phone calls is tremendous.  They're called Aukey.  Get a pair you'll be glad.
Playlists on Rhapsody
These are playlists I created of ambient house music to stream while I am working on a sketch.  Some are over 70 tracks of mellow house music with almost no vocals.  I have marked them as a public playlists in case you want to listen on Rhapsody:
I enjoy how you can build playlists of only tracks you really like and there are no commercials or ads slipped in between the music.
Ambient House Medley  <———–52 tracks; 5 hours
Ambient House Medley 2 <———82 tracks; almost 8 hours
If you don't have Rhapsody, I think you can get a 30 day free trial, but it's like cable TV.  Once you get past the free offer, you're hooked.  That's how it happened to me anyway nine or ten years ago.
TIDAL vs. Rhapsody
Recently I joined TIDAL just so I can hear Prince music, but they have technical quirks they need to work out.  Reminds me of Rhapsody 8 or 9 years ago:
The application opens and plays automatically when you connect or reconnect Bluetooth
Some tracks are damaged. (e.g. Adore by Prince)
There is no back button
They are nearly the same in a lot of ways including price.  I will end my subscription with TIDAL for now.  If Rhapsody can't figure out how to get Prince music back, I may have to make a move.
Self Portrait Work in Progress
This scan shows progress on another ink self portrait using the Pigma Micron pen; another Sakura product.  It is a sketchbook drawing; actual size 6″ x 9″.  I am learning to do all hatch marks for one direction at a time; it's quicker and easier to keep track of the dark values.
Check back here for more progress on this drawing.