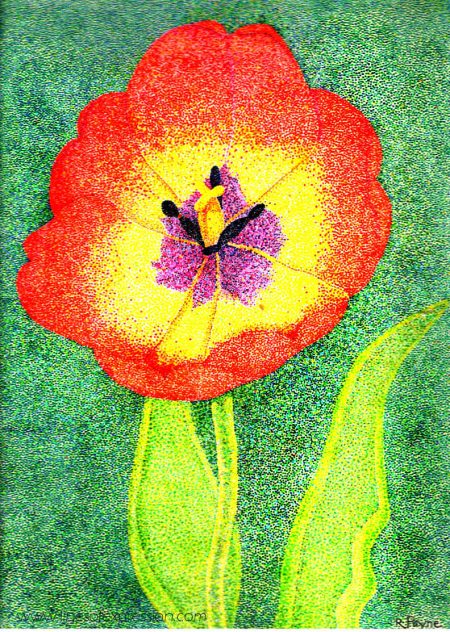 This is a vintage colored pencil drawing done in New Orleans.  It was an experiment in pointillism that I will never forget; it was extremely tedious and time consuming.
Pointillism is a technique of drawing or painting in distinct dots of color applied in patterns to form an image.  If I ever think of trying this again, I hope I can talk myself out of it.
I remember being nearly done and my eyes crossing.  I wanted to throw it away and forget I ever started it.  Although I do admire Georges Seurat's work, I believe he had the same problems with time intensity.
Tulips are a favorite and I would like to explore this subject more, just not in pointillism.  Since time consuming work really affects the bottom line, I want to explore techniques that can be done in eight hours or less.
I don't want to be that artist who can only finish 2 or 3 pieces a year. Although it's funny, a few pieces a year is all I have to show for the last few years.  I am counting on this blog to change that.
Two Ways to Save Time Drawing with Colored Pencils:
Pieces that are smaller can be printed larger to the specification of the client with the proper scan in the right resolution.  Working smaller can allow for you to make a series of several drawings.  Art buyers like to get pieces in "sets".
Start with a water soluble crayon layer as an underpainting
Water soluble crayons are a wonderful solution for an even toned layer that can be completed quickly and is compatible with colored pencils. I have tried a few brands, but the ones I really prefer are Caran d'Ache Neocolor II.  They rock.  A little pricey, but so worth it.