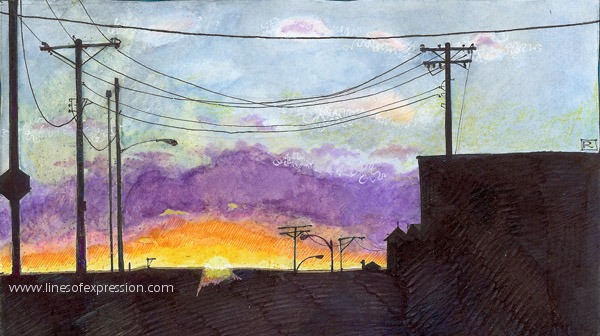 Something about telephone poles I have a strong affection for and attraction to.  I expect them to show up in more drawings in the future.  I suppose they will soon be obsolete like TV antennas and telephone books.
This drawing is a mixed media piece created with watercolor, water soluble crayons and ink.  It was inspired by a photo I found on Flickr of a St. Louis sunset.
I had a yellow swirl of yellow glitter paint on the sketchbook page as an underpainting, so when I saw the sunset, that page called me to record it.  It was a very fast sketch.
It is a good practice to attack each page of a sketchbook in stages.  I learned about giving pages background colors and textures in advance of knowing what you will draw there from Roz Stendahl.  She has great talent and teaches classes on drawing, journaling and bookbinding.
She has a blog I used to follow; now that I have redisovered the link, I can enjoy her work and advice again.
Do you think drawing on paper will ever be replaced by computers?