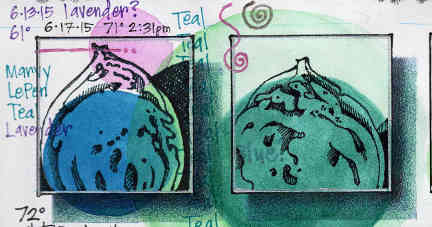 My dear friend welcomed me to Atlanta announcing that I am a new Georgia peach!  It's true; everything is new.
New zip code
New phone number
New state
New driver's license
New weather
New scanner!
New blog
New ideas
New inspiration
It's been a whirlwind and I'm glad of it.  I desperately needed a change; I've been ready to leave Michigan for many years.  Change is exciting.
This is a sneak preview of a drawing that I started working on last summer.  I wasn't sure what the peach pits represented at the time, but lo and behold the meaning is now clear!  What a difference a year makes!  Inspiration came from a sketchbook that I received as a gift.  A year after the fire I didn't feel much for drawing even though all my art supplies survived.   This drawing represents a new surge in my inspiration.  It is often a challenge to stay inspired.  Here is a list of ways to keep the creative juices flowing:
Twelve Ways to Stay Inspired
Get a new sketchbook
Work on a different kind of artistic project than you usually do like knitting or collage
Keep a list of drawings you would like to create
Read Danny Gregory's book The Creative License
Draw outside
Change media from whatever you always use
Organize your studio/workspace
Do daily drawing exercises that do not require a certain outcome (Don't wait for inspiration! Draw anyway.)
Watch the documentary The Mystery of Picasso
Read Keri Smith's 100 ideas
Take a life drawing class
Visit museums and art galleries
Change the pace of your drawing; go slower or faster
Are there any ways to stay inspired that you can add to my list?  Please share!